Alpine Swift
Tachymarptis melba

-

Martinet à ventre blanc
Description
identification
Subspecific information
10 subspecies
Tachymarptis

melba

melba

(s Europe through Turkey to nw Iran)

Tachymarptis

melba

tuneti

(Morocco through the Middle East and e to w Pakistan)

Tachymarptis

melba

archeri

(n Somalia, sw Arabia to Jordan and Israel)

Tachymarptis

melba

maximus

(Rwenzori Mts.. ne DRCongo, Uganda.)

Tachymarptis

melba

africanus

(Ethiopia to South Africa and sw Angola)

Tachymarptis

melba

marjoriae

(nc Namibia, nw South Africa)

Tachymarptis

melba

willsi

(Madagascar)

Tachymarptis

melba

nubifugus

(Himalayas)

Tachymarptis

melba

dorabtatai

(w India)

Tachymarptis

melba

bakeri

(Sri Lanka)
Foreign names
Vencejo real

,

andorinhão-real

,

Alpensegler

,

Alpengierzwaluw

,

Rondone maggiore

,

alpseglare

,

Alpeseiler

,

dážďovník skalný

,

rorýs velký

,

Alpesejler

,

alppikiitäjä

,

Witpenswindswael

,

ballester comú

,

Alpasvölungur

,

jerzyk alpejski

,

Alpu svīre

,

planinski hudournik

,

Белобрюхий стриж

,

シロハラアマツバメ

,

高山雨燕

,

高山雨燕

,
Habitat
Behaviour
character trait
Flight
Reproduction
nesting
The Alpine Swift chooses, for its colonies, natural sites consisting of crevices in vertical rock faces, although sporadically one observes nestings in the structures of urban edifices.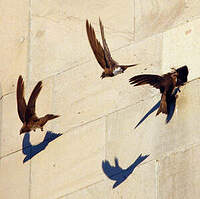 Between one and five eggs are laid in the early month of May onto a lining of materials such as feathers, straw and textile threads. After a 21-day incubation period, the young are fed by balls of insects captured in-flight by the parents, until the flight which takes place in July, eight to nine weeks later depending on the weather conditions, thus the yield of the hunt.
Geographic range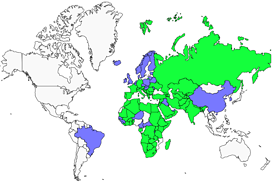 This Alpine Swift is only present in the southern part of Europe: Spain and Pyrenees, Mediterranean coast, Massif Central, Alps (up to Jura), Italy, Corsica and Sardinia, Greece, Balkans, Turkey.
Threats - protection
IUCN conservation status
Extinct
Threatened
Least
concern
Extinc
in the Wild
Near
threatened
Not
evaluated
Illustration
Other sources of interest

Specification sheet created on
02/08/2023
by
Renan Levaillant
Translation by AI Oiseaux.net
published: 23-08-2011 - Updated: 28-09-2011
© 1996-2023 Oiseaux.net