Barnacle Goose
Branta leucopsis

-

Bernache nonnette
Description
identification
The Barnacle Goose is a small goose easily identified by its black neck and chest, pure white small head, grey striped back contrasting with a very pale underpart . There are some similitudes with the Canada Goose, but the latter has a longer neck.
Also, the Canada Goose has a pale or brown chest, never black.
The Barnacle Goose has a small triangular black beak, black legs and a white rump. In flight, wings look wide.
Subspecific information
monotypic species
Foreign names
Barnacla cariblanca

,

ganso-marisco

,

Weißwangengans

,

Brandgans

,

Oca facciabianca

,

vitkindad gås

,

Hvitkinngås

,

bernikla bielolíca

,

berneška bělolící

,

Bramgås

,

valkoposkihanhi

,

oca de galta blanca

,

Helsingi

,

bernikla białolica

,

baltvaigu zoss

,

belolična gos

,

Белощёкая казарка

,

カオジロガン

,

白颊黑雁

,

白頰黑雁

,
Habitat
Behaviour
character trait
Three main groups, respectively coming from Greenland, Spitzberg and New Zemble start their migration end of August or beginning September.
Diet
feeding habits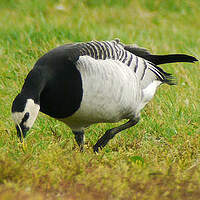 As well as barnacles and geese in general, the Barnacle Goose is mainly vegetarian. Grass is its main diet, although during summer, it can eat various maritime plants shoots. In winter, when grass is not as dense, Barnacle eat also seaweeds, aquatic insects, molluscs and shellfish.
The species eats anytime during the day and prefers the coastal zone grass, regularly flooded by water. If it's not possible, it turns off towards the meadows behind the coast.
Reproduction
nesting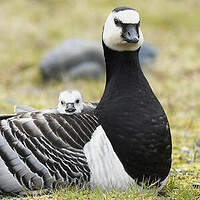 Nidification season starts soon after returning in the Arctic. During the courtship display, the couples leap, stretching their neck and flapping their wings.
Threats - protection
Illustration
Other sources of interest

Specification sheet created on
13/04/2006
by
Didier Collin
with help of
Daniel Le-Dantec
Translation text by
published: 07-11-2002 - Updated: 28-01-2017
© 1996-2023 Oiseaux.net