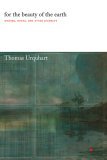 For the Beauty of the Earth: Birding, Opera, and Other Journeys
de Thomas Urquhart (Ed. Shoemaker Hoard, Div of Avalon Publishing Group ) Isbn : 1593760930
11.83 €
Today, when most personal memoirs involve misery and dysfunction, it is exhilarating to encounter a life of modesty, happiness, and immeasurable stability. Often when we think of nature writers and naturalists, we think of the rough-hewn rural, rugged, outdoor type wrestled into epiphany by the arms of Mother Nature. Thomas Urquhart found a different path. He combined a classical education with a lifelong passion for opera, literature, and art. And from his earliest days he is a devoted, devotedly amateur naturalist. In For the Beauty of the Earth Urquhart begins with the lives of his ancestors, among them his grandmother, "a patron saint of lost causes" who cherished her signed photo of Robert E. Lee, his great aunt Catharine, arrested along with Edna St. Vincent Millay and Marianne Moore...