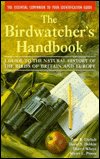 The Birdwatcher's Handbook: A Guide to the Natural History of the Birds of Britain and Europe : Including 516 Species That Regularly Breed in Europe
de Paul R. Ehrlich, etc., David S. Dobkin, Stuart L. Pimm, Darryl Wheye (Ed. Oxford University Press) Isbn : 0198584075
4.36 €
This extensive guide to bird-watching lists 516 species in Britain, Europe, and adjacent parts of the Middle East and North Africa. Each of the 516 entries is divided into three parts: heading, summary line, and text. The heading consists of the species' common name, scientific name, and a reference to recent editions of standard field identification guides, directing the bird-watcher to a guide containing color drawings or photographs. (This handbook has no color plates of birds.) The pictorial summary line--using symbols, words, abbreviations, and numbers--gives information on the bird's nest location and type of nest, a description of the eggs, the number of eggs and the number of broods each year, and data on hatching and caring for the young, diet, and foraging techniques. (To get an ...